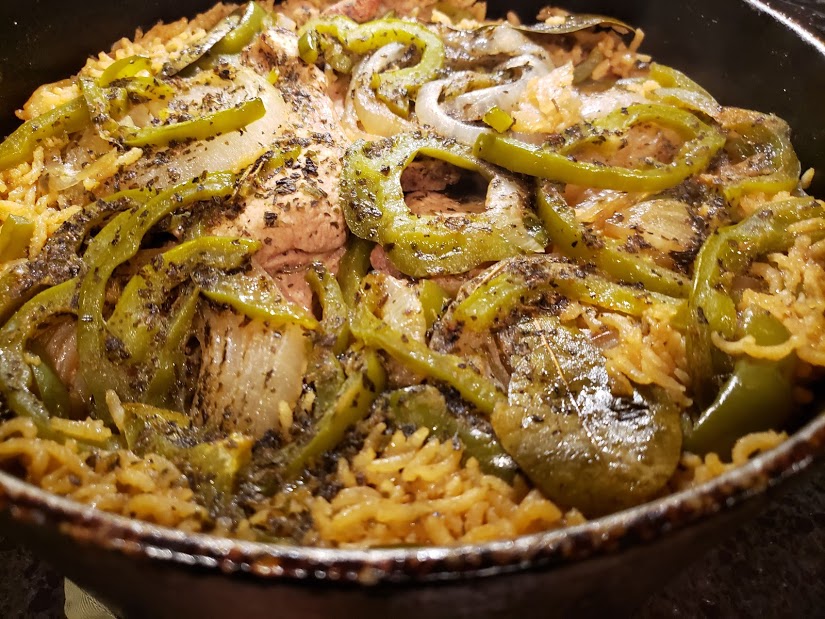 C.J.'s Simply Southern Pork Chop Casserole
Mouth watering Pork Chops surrounded by tender beef flavored rice with fresh onions and bell peppers. A perfect family meal all in one pot. Add a Fresh Blended Salad or Dinner Rolls if desired.
Keyword:
Casserole, Pork Chops, Southern Casserole
Ingredients
6 to 8

Pork Chops

2 to 3

Cups

Uncooked white rice

1 to 2

Large Green Peppers

1 to 2

large Yellow Onions

2

cans

Beef Consomme

3

Tbsp

Canola or Vegetable Oil

3

Dried Bay Leave

3

Tbsp

Italian Herb Seasonings

2 to 3

Cups

Water

1 Pinch of Sea Salt
Instructions
Oven Settings
Preheat oven to 350 degrees
Preparing Pork Chops
Wash pork chops sit to the side

In the large cast iron pot, heat canola oil on medium heat

Season all pork chops with Italian Herb seasoning

Saute each pork chop on both sides, lightly browning but not fully cooking. Place cooked pork chops in a pan until all pork chops are finished browning.
Preparing Vegetables
Wash Onions and Bell peppers

Thinly slice Onions and Bell peppers in rings
Putting Casserole together
Add uncooked rice to large pot that was used to saute the pork chops. (Oil should remain in bottom of pan for flavoring).

Add one layer of pork chops, one layer of onions and one layer of bell peppers until all ingredients are used.

Add 2 to 3 cups of cold water covering all ingredients in the pot. (The juice level should be / above the ingredients additional water may be needed).

*****If desired add a dash more of Italian Herb seasoning*****
Baking Pork Chop Casserole
Cover with the lid. Bake for 45 minutes to 1 hour. Check the cooking process at 20 minutes by removing the lid and ensuring juice is visible. If not add 1/2 cup of water so that all rice is fully cooked to a fluffy consistency.

After 45 minutes remove the lid, if rice is moist and tender throughout remove casserole from oven allow it sit on counter top with the lid on for 10 minutes prior to serving. This will lock the flavors.
Recipe Notes
This recipe was handed down to our family from our Mom; Barbara Miller. Mom would bake her infamous Pork Chop Casserole for special occasions.  I have baked this recipe for my family for over 35 years and has since passed it down to our kids. It is truly an all in one meal. You can add a salad, rolls or a pinch of ranch dressing on the side if you desire. Chicken can be substituted in place of pork chops.