Our Simply Southern Chicken Salad can be served with your favorite crackers, as a sandwich on toasted wheat bread, or on top of a beautiful array of blended lettuce. (Garnish with paprika and parsley if desired). Hope you enjoy our Secret.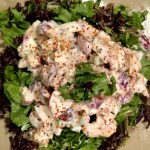 Simply Southern Chicken Salad
Ingredients
6 - 8

Chicken Breast Strips

skinless

1

cup

Red Grapes

sliced

1

cup

Red Apples

diced (for a more tart taste use green apples)

1/2

cup

Walnuts or Pecans

candied

1/2

cup

Dried Cranberries

1/2

cup

Celery

diced

1/2

teaspoon

Dried Tarragon Leaves

1/4

teaspoon

Garlic Powder

1/4

teaspoon

Onion Powder

1

pinch

Celery Salt

1

pinch

Cracked Black Pepper

1

pinch

Smoked Paprika

1

pinch

Cayenne Pepper

2

tablespoons

Olive Oil

2-1/2

tablespoons

Mayonnaise

2

tablespoons

Rice Vinegar
Instructions
Preparing chicken for salad
Cut uncooked chicken strips into small bite size pieces place in a bowl. Add tarragon leaves, onion powder, garlic powder and paprika. Mix until chicken is well coated.

In a large skillet add 2 tablespoons olive oil cook on medium heat setting.

Add seasoned chicken, stirring until chicken is fully cooked. Remove from heat when done. Blot excess oil if needed.
Preparing all other ingredients
While chicken is cooking, wash grapes, apple and celery. Blot excess water from items.

On a small cutting board, dice apples and celery add to a mixing bowl. Slice grapes add to mixing bowl.

Add mayonnaise, cayenne, cracked black pepper, celery salt, candied walnuts or pecans, and dried cranberries. Add cooked chicken and rice vinegar. Stir until well blended.